Premium-Quality Compatible Toner Cartridges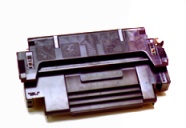 You are assured optimum value when using our premium-quality remanufactured products.

We maintain rigorous quality control and testing procedures to ensure that our cartridges operate reliably, producing sharp text and graphics each time you print. We do not simply "recharge" or "refill" laser printer cartridges as others do. Believe it or not, many remanufacturer's simply drill a hole in the cartridge, inject the toner, plug the hole and box it for resale! You deserve (and want) better quality than that.
Our Guarantee:
If our compatible cartridges ever create a printer failure, we will repair the printer at no cost to you. That means no charges for parts, labor, or anything else.

Our remanufacturing process is extremely thorough and methodical. We actually perform durability tests to check the integrity of the cartridge itself as well as the performance of internal components. Extensive graphics printing tests are performed and studies are done on the compatibility of toner materials.
Next, we disassemble the cartridge and inspect and replace any worn and wearable parts with new components. Your cartridge is then filled with toner and final assembly testing is performed.
Our toner material vendors are selectively chosen and must maintain high quality control and product standards. We use the highest quality materials available in our compatible cartridges.

In addition, our technicians always personally deliver your cartridges, which enables you to consult with them about your needs and ask any questions you may have while they are on site.


Here's what our customers say about our cartridges...
"In the competitive medical transcription industry, consistent print results are imperative. Advanced Digital Technologies has manufactured high-yielding toner cartridges for us over the last seven years with the professional results my clients demand. I have discovered that the name brand cartridges don't last as long and the results aren't any better. My operational costs for printing are very low."
Deborah Hymel
MedTrans
"Edgar, Kiker & Cross has been using Advanced Digital Technologies for many years. Their staff is very courteous and prompt. That along with reliable and competitively priced toner cartridges have made doing business with Advanced Digital Technologies a pleasure."
Paul Baker
Network Administrator